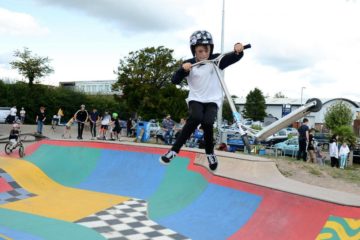 Skate parks are fantastic places to learn how to ride your scooter, practise those stunts and socialise!
Each skate park is designed specifically to provide unique challenges to its users.
Skate parks may be privately or publicly owned. Privately owned skate parks usually have admission fees, while publicly owned skate parks are generally free. Many privately owned skate parks are indoors, usually in warehouses, roller rinks or buildings with high ceilings, especially in areas with snowy winters. Public skate parks are usually outdoors.
Skate park construction can be divided into two major categories — prefabricated and custom built concrete. Prefabricated parks can be made of wood, plastic, sheet metal, and concrete. Most are designed and built by playground equipment manufacturers who present these parks as a cost-effective alternative to custom-designed concrete skate parks. In reality, custom built concrete skate parks can be quite cost competitive with prefabricated skate ramps.
And remember to always wear a helmet and protective clothing!